Chart Of The Day: Silver Rallies On Real Fundamentals, Not Fake Reddit Targets
Based on the chart, which showed a price surge of 22% in just three sessions, one might have thought the asset depicted was . Surprisingly, the spike—from the low on Jan. 28 to the high on Feb. 1—was the action on , an asset not generally known for volatility.
Media reports said it was another 'Reddit Rebellion,' in the wake of the social-media-fueled move on such equities as GameStop (NYSE:) and AMC Entertainment (NYSE:) by retail investors forcing a short squeeze on hedge funds and financial institutions. That, however, was fake news.
Hedge funds and investment banks have been net long silver for some time now. As well, the total valuation on the precious metal is estimated to be anywhere between hundreds of billions and trillions of dollars, making it a much more difficult target to manipulate, versus GME's valuation of $1.4 billion at the beginning of 2021.
But though the news of another Reddit frenzy targeted at silver went viral, authentic fundamentals for the white metal were what actually caused it to move higher. In early August, Bank of America analysts had already noted that if Joseph Biden was elected President, his proposed "green stimulus" initiative would boost silver to $50, roughly doubling its value.
Now that he's President, Biden is on course to put the US on a path to reach net-zero carbon emissions by 2050. Since silver is an integral component in solar energy technology, demand for the commodity will increase significantly, as will supply/demand activity on its technical chart.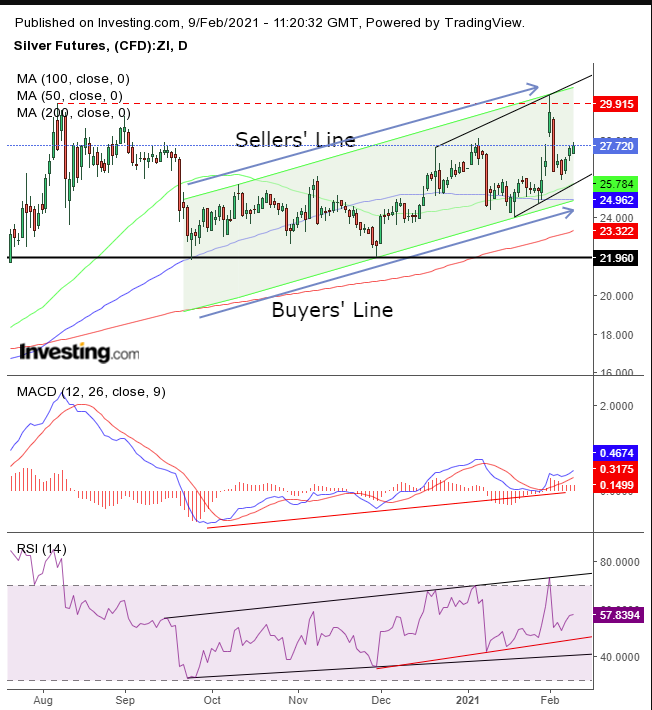 Silver is up for a third day, moving within a rising channel, a framed uptrend. The lower bound represents the line where demand overcomes supply, while the upper bound traces the extreme highs were supply overcame demand.
Notice that both buyers and sellers agree that prices should rise, as each side of the equation plays this game of catch between highs and lows in an upward trajectory.
The 50 DMA recrossed above the 100 DMA in late January, entering a bullish moving-average formation, in which the 50 DMA turns above the 100 DMA, which in turn is above the 200 DMA. Also notice that the 100 DMA is still downward turning, testing the lower boundary of the rising channel. This means there is plenty of runway upward before the commodity can be considered overheated.
The rising MACD and RSI also have plenty of upward trajectory for escalation.
The silver trade has been confined within a narrower rising channel since the Jan. 19 bottom, which has been confirmed by the RSI.
Caution: The fake Reddit meme-trade that went viral found resistance by the Aug. 6 high (broken red line), which was one day after Bank of America's silver forecast was published. This puts the onus on silver bulls to break through the $30 level, to resume the rally along the uptrend.
We might see volatility at that level. For now, though, silver is likely to be supported by weakness, but that could change at the drop of a hat. Plus, if silver should fall below $21.0, it will have completed a double-top.
Trade Strategies – Long Position Setup
Conservative traders should wait for accumulation above $30.
Moderate traders could wait for a buying dip.
Aggressive traders would enter according to a plan that incorporates the risk discussed in the article, relative to an attainable reward.
Here's an example:
Trade Sample
Entry: $26.90
Stop-Loss: $25.90
Risk: $1
Target: $29.90
Reward: $3
Risk:Reward Ratio: 1:3
Author's Note: This is a trade sample, which by definition means that there are other ways to approach this trade. In addition it's only presented to show traders what to incorporate into their own plan. Even if our analysis is correct, you can still lose a trade, which is dependent upon a variety of moving parts, not the least of which are your personal circumstances, such as budget, timing and temperament.
Like any other business, trading success is determined by overall activity over a stretch of time, not a single trade or individual day. If you treat trading like a business, which requires education, experience and capital, you exponentially increase your chances of success. Most businesses fail inside six months. The single most important component that helps a business make it through the six-month mark is if the owner monitors his capital and continues showing up the next day, even if there's a rough patch.