Chart Of The Day: Silver On Course To $30
This article was written exclusively for Investing.com
It is not often that we see precious metals rise when the , bond yields, and rate hike expectations are also on the rise, which is the case right now. But as we have seen in the last few weeks, none of this has mattered for and, to a lesser degree, .
This is because currently soaring remains the primary concern among market participants, boosting the appetite for haven and inflation-hedging assets, while the general rally in the commodities complex—as a result of the conflict in Ukraine—is also helping to drive precious metals higher.
With gold coming to within spitting distance of the 2020 all-time high earlier this week, you would think silver would be at least near its corresponding 2020 high around $30. But it is more than $4 away from that target, and nearly $30 from its 2011 all-time high.
Silver, therefore, has a lot of catching up to do, especially when other base metals like have been surging higher, too.
From a technical point of view, silver remains in a bullish trend. This is highlighted, for example, by the higher highs and higher lows in recent price action and the fact we are holding above both the shorter-term 21-day exponential and longer-term 200-day simple moving averages. The fact that silver recently broke above the 200-day average was the turning point for me. And since then, we have seen nearly a $3 move higher.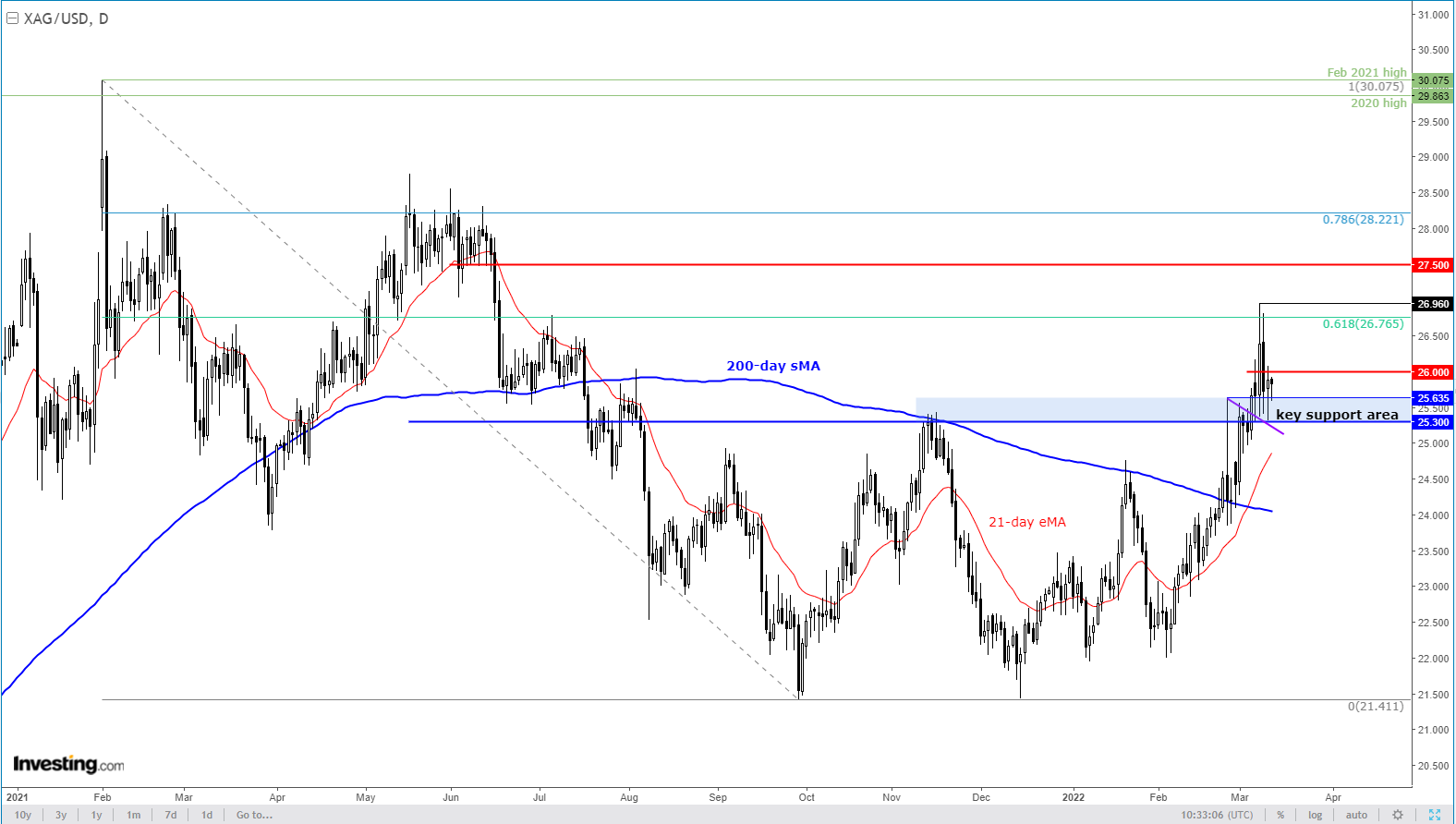 More recently, silver managed to break above key resistance around $25.30 to $25.60, which led to follow-up buying towards the 61.8% Fibonacci retracement level around $26.75, where the rally then came to a halt.
But crucially, the dip has been defended by that $25.50-$25.60 region, providing decent support for the last three days or so. Thus, despite the apparent weakness, the bullish trend has not been broken. If anything, the consolidation here means silver is probably gearing up for another sharp break higher.
A decisive move above short-term resistance circa $26.00 could be the trigger for such a move. Could it happen as early as today? Though the economic calendar is light, geopolitical risks are not. In fact, it is all about the Russia-Ukraine conflict right now, driving up key commodity prices and, in turn, inflation expectations. Rising price pressures should be good news for assets that are perceived to offer good protection against inflation. Gold and silver are among those.
If the bullish trend continues, as I expect that it might, then the next upside target is around $27.50, the point of origin of the breakdown back in the summer.  Thereafter, the 78.6% Fibonacci retracement level comes in at $28.22, followed by the highs from last year and the year before, around $30.00.