Chart Of The Day: Silver Bulls Flagging
This article was written exclusively for Investing.com.
Precious metals have been shining more brightly of late, thanks partly to major central banks refusing to be more aggressive in reducing monetary support or afraid of tightening. We have seen yields fall as a result, underpinning and , as well as helping to extend the rally for major global stock indices.
With central banks out of the way, and the already announcing its tapering plans earlier this week, today's US didn't cause too much of a headwind for the metals, with yields remaining under pressure despite the better-than-expected numbers. 
Undoubtedly, a weaker jobs figure would have benefitted the metals more, as that would have discouraged policy makers at the Fed to reduce stimulus more aggressively than the current pace of $15 billion per month in net asset purchases. But even though jobs come in slightly above expectations, I don't think it will cause a major slide in gold or silver prices.
If precious metals were going to drop, they should have done so when the Fed announced tapering on Wednesday. Instead, they have been able to rise, suggesting the Fed's decision was fully priced in, while inaction from the and continued dovish rhetoric from the , means investors can rest assured that stimulus will not be withdrawn too quickly. 
While both precious metals could be about to break sharply higher, the ongoing positive risk appetite (as evidenced in the equity markets) suggest silver might be able to outperform gold.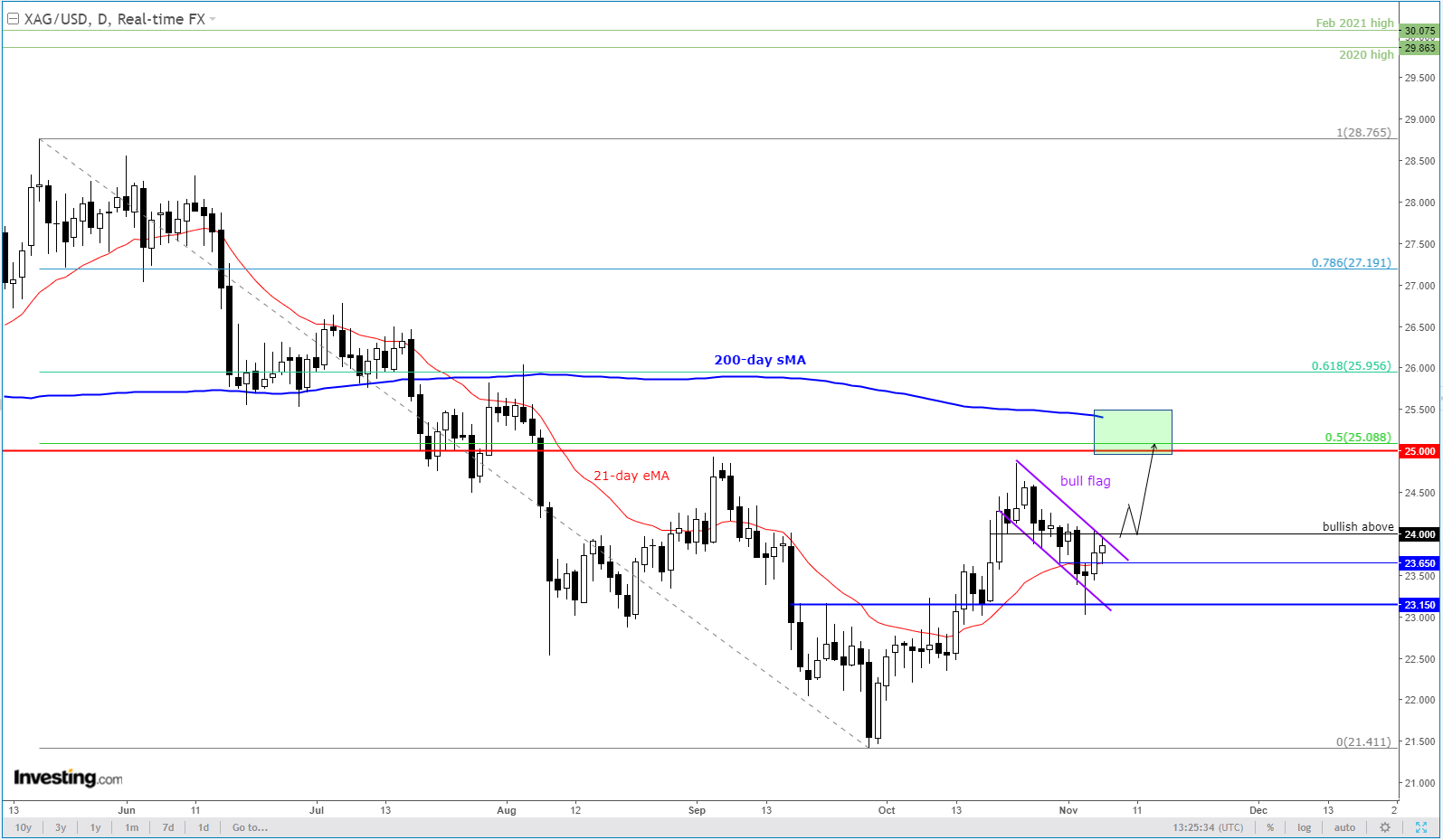 After ending a 4-month losing streak in October, silver has been consolidating inside a bull flag pattern over the past couple of weeks or so. The metal found good support on Wednesday in the aftermath of the FOMC's decision, with the metal bouncing from $23.15, a level where it had previously run into resistance.
The resulting price action on Wednesday was a small hammer, but crucially there was some upside follow-through on Thursday and some further strength is coming in at the time of writing, although it was still holding inside the bull flag pattern. 
I reckon there is a good chance silver will break to the upside given the weakness we have seen in US and European government bond yields. Falling yields are normally positive for non-interest-bearing metals as they reduce investors' opportunity cost of holding them on a relative basis. That's why gold and silver have been able to shrug off the strength of the against most major currencies, especially the and . 
If silver does break out from the bull flag and resistance at $24.00, as I believe it will, the subsequent target would be the psychologically-important $25.00 handle, where we also have the 50% retracement level converging in close proximity. Thereafter, the 200-day average comes in at $25.40, followed by the 61.8% Fibonacci retracement at just shy of $26.00.