Chart Of The Day: Gold's Symmetrical Triangle Suggesting More Upside Ahead
is declining on Tuesday, halting a four-day rally, after the and hit fresh records yesterday and all U.S. indices closed at the top of the session. Monday's exuberance was especially surprising after the World Health Organization (WHO) statement about the potential spread of the deadly coronavirus.
So, how to reconcile this incongruity between the stark warning from the leading authority on this expanding geopolitical risk and the turn that investor sentiment has taken? Look at market mechanics.
The global financial market is like a complicated automatic watch, with multiple gears that affect one another. For example, while a dovish Fed supports record-high stock prices, the path to low interest rates also weighs on the , thereby boosting gold, whose value is not derived from its yield.
Moreover, even yesterday's bullish performance in U.S. stocks could be a set-up for a reversal, a combination of long positions and unwinding shorts.
We have been bullish on gold since August — and we believe the precious metal still has ample room to gain further.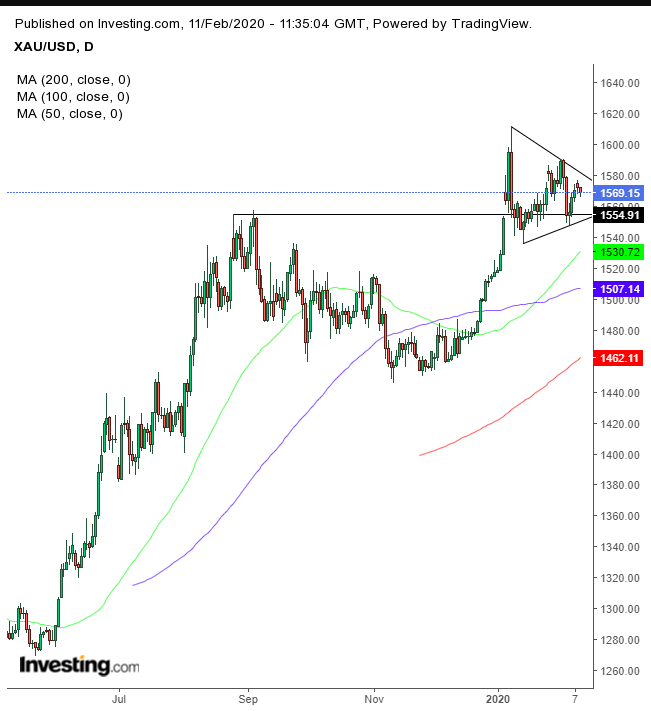 So, what mechanics could cause gold to decline — other than the apparent risk-on in yesterday's records? It just so happened that the trade followed the converging path of its symmetrical triangle.
This pattern's symmetrical design suggests a continuation to its preceding uptrend, whose location at the very top of the August-September highs makes this particular continuation trend especially bullish, upon an upside breakout.
Trading Strategies
Conservative traders should wait for an upside breakout with a minimum 3% filter, to minimize a bull trap. Then, wait for a pullback to retest the pattern's integrity.
Moderate traders would wait for an upside breakout beyond $1,610, the highest point of the triangle, then for the return move for a better entry, not necessarily for proof of trend.
Aggressive traders may enter a long position at will, providing they can afford a stop-loss beneath the triangle.
Trade Sample
Entry: $1,560
Stop-Loss: $1,555
Risk: $5
Target: $1,575
Reward: $15
Risk:Reward Ratio: 1:3