6 Weeks Into Its Rally, Doubts Remain About $3 Copper
It has rallied longer than most people thought, prompting almost anyone to ask: will reach $3 per pound this time around?
There are probably very few who will say yes. And that's understandable given how much the world's No. 1 industrial metal has disappointed those who believed in it in the past.
The last time COMEX copper futures traded at, or above $3, was exactly two years ago. 
That's not too long, yet long enough to lead astray anyone who repeatedly bet on the potential for infrastructure growth from a much stronger global economy before the advent of the coronavirus pandemic.
Ironically, it's COVID-19 that's behind the current copper rally, as increasing caseloads of the virus in Chile — the world's largest producer — affects output.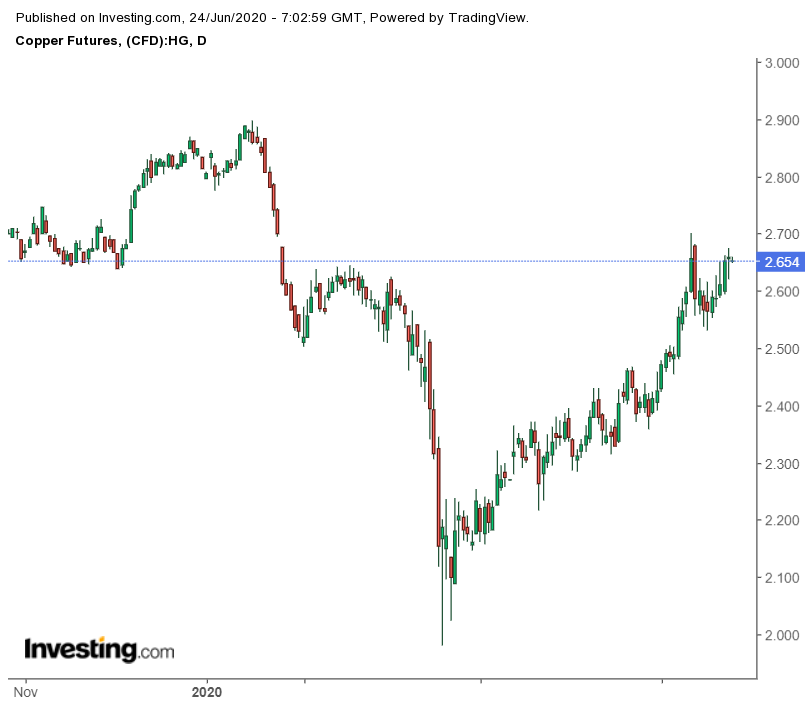 Copper Rally Driven By Chile's Woes
Given that Chile accounts for more than a quarter of the world's copper supply, mining outages can rock global projections, Bloomberg observed in an analysis that cited the disruption as one of the main reasons for the today's strong prices. But beyond a point, tight copper production slows infrastructure expansion, dragging on the potential for growth 
"You can't do it forever—maybe a couple of quarters," Bloomberg Intelligence senior analyst Andrew Cosgrove said, referring to the Chilean situation. "Thereafter, it starts to negatively impact your output profile," he added.
The benchmark COMEX July contract traded not far from the 8-month high of $2.70 on Wednesday, after BHP Group (NYSE:) announced stricter health protocols following an outbreak of COVID-19 at its Escondida mine—the world's largest—that reached 150 cases. 
Earlier this week, Chilean state miner Codelco announced stricter safety measures and suspended some construction projects after two workers died from COVID-19. The Chilean government also imposed lockdowns for the mining-intensive Antofagasta region from Tuesday.
Despite such disruptions, gains in copper this month have been capped by concern over a new wave of coronavirus in the United States that could undermine the recovery in the world's largest economy as it struggles to emerge from widespread lockdowns.
Copper Rally May Continue, But $3 Target Could Stay Elusive
So, the rally in copper might continue as we argued . But $3 per pound may remain an elusive target even for the most ardent copper bull.
COMEX futures have risen for six straight weeks, marking a 13% gain in this time. So far in June, the price is up 18%, set for its third month of increases, while year-to-date, copper is still down 6%.
While technical analysts tracked by Investing.com rate COMEX July copper a "Strong Buy," indicators for its upside potential aren't that great. The benchmark copper contract hovered at $2.66 per pound on Wednesday, and the charts suggest a maximum upside of $2.74.
The fundamentals for copper — the backbone of the electric, electronics and construction industries — are promising. Supply is tight and demand is very much universal, in both developed and emerging economies.
As we have said previously, in a perfect world, anyone who studies copper well enough could, in theory, have some insight into a possible future boom or recession. Copper's close ties to the health of the global economy have earned it the nickname "Dr. Copper." Yet, even before the onset of coronavirus, the world was hardly perfect, and the pandemic has now redefined almost everything we previously knew as normal. 
COVID-19 Messes Up Everything — Again
Copper, as a result, has been in its own universe, rallying when the world economy was tanking. The metal owes much of its upside to output disruptions caused by mine closures and other supply disturbances.
At least 22 of the 50 US states have reported a rise in COVID-19 cases after reopening their economies over the past two months. In Arizona, a particular hot-spot, infections shot up 54% in a week. These come as more than 122,000 Americans have died from the disease and another 2.4 million have been infected.  A new model by the University of Washington predicts 200,000 COVID-19 deaths in the United States by Oct. 1.
Anthony Fauci, the director of the US National Institute of Allergy and Infectious Diseases and a member of the White House Coronavirus Task Force, told a congressional hearing on Tuesday:
"We were going down from 30,000 cases a day to 25,000 and 20,000 … and now we are going up with 30,000 new infections, and that's very troublesome to me."
Around the world, other countries have registered a resurgence in deaths and infections. India reported 14,933 new confirmed cases and 312 deaths, according to data from the Ministry of Health and Family Welfare. Total infections there now exceed 440,000, with more than 14,000 dead, according to the ministry.
Health authorities said the Seoul metropolitan area is experiencing a second wave of infections. South Korea added 46 new cases, bringing the nation's total to 12,484. Thirty of the new cases were imported and 16 were linked to a Russian-flagged ship with 21 crew members that has been docked in Busan since Sunday.
New Zealand said it would start testing asymptomatic border-control workers and aircrews as thousands of citizens return from global hot spots. The number of people returning to the country from overseas doubled since last month, with some 4,200 people in quarantine—close to the limits of government-run facilities.
Not all are dour about copper's prospects though.
Goldman Sachs raised its three-, six- and 12-month price forecasts for to $6000/$6250/$6500 per tonne from $4400/$5000/$6000 per tonne, citing economic recovery in top buyer China as the catalyst. Three-month LME copper futures are currently trading around $5,900 a tonne. 
China's imports of unwrought copper totalled 436,030 tonnes in May. That was down 5.5 per cent from April but up 20.8 per cent from the same month last year.
Stocks of copper in warehouses monitored by the Shanghai Futures Exchange have fallen to 17-month lows of 109,696 tonnes from more than 380,000 tonnes in March.
BMO analyst Timothy Wood-Dow notes these positives: 
"Sentiment has improved. Chinese demand for copper is strong, we can see that from the imports and falling inventories."

"For higher prices we need competition for copper units, and that would come from recovery in the West."
But with a second wave of COVID-19 seemingly imminent, that recovery remains in question.