5 Red Months Later, Are Platinum And Palladium A Buy Or Hold?
One of the longest red streaks in PGMs is about to end as and , which make up the so-called Platinum Group Metals, head for what appear to be their first positive month in six.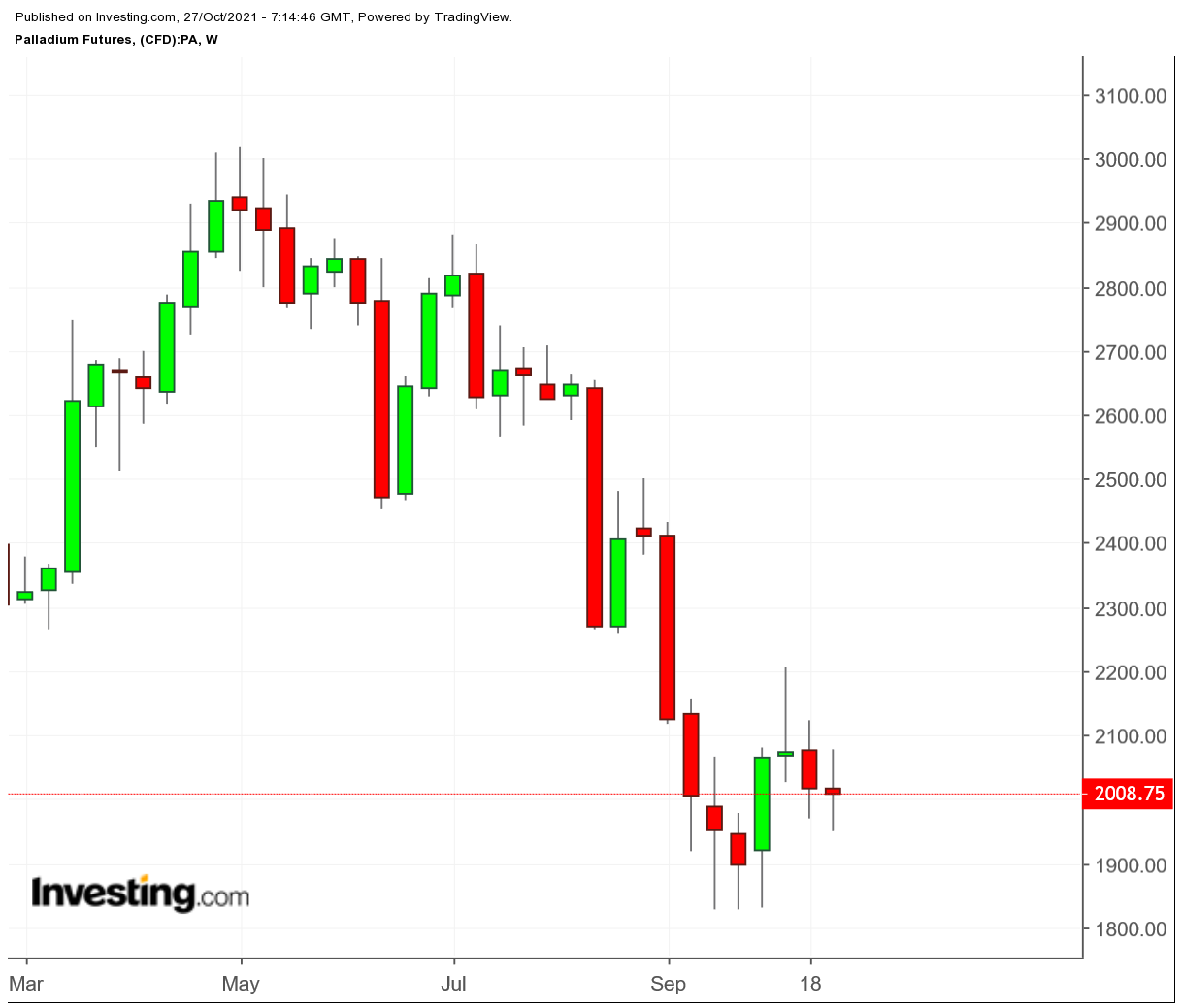 Palladium, an emissions purifier in gasoline engines, lost more than 35% between the end of April and September. Platinum, which serves a similar function in diesel cars, fell just over 20% in the same period.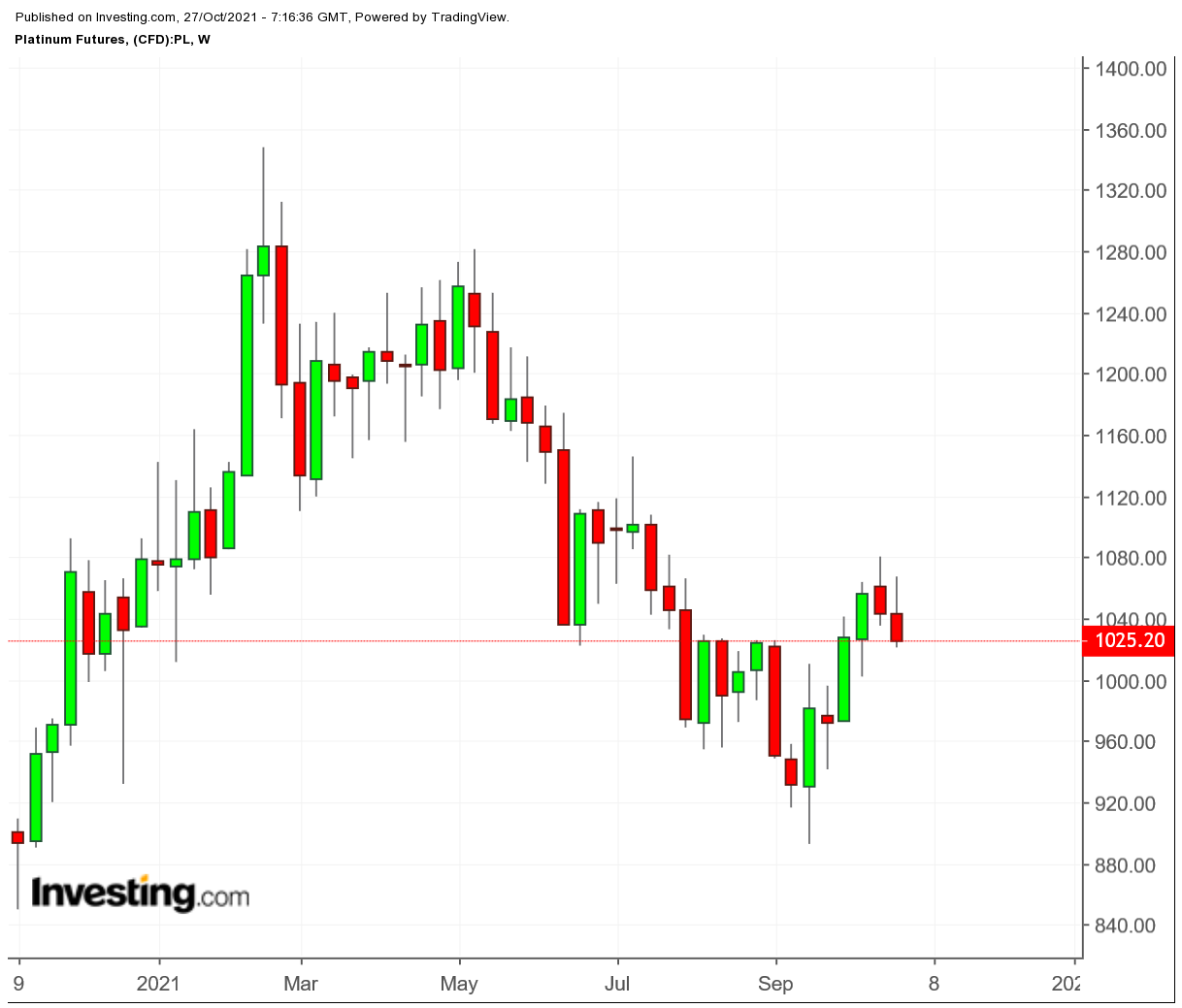 Both PGMS are, however, up more than 6% for October. And with just two more sessions left to the month, they look set to end their bearish run that began with the global crunch in microchip supply that has practically strangled automobile production.
Fundamentally, PGM prices could continue rising if output of cars recover from a fix in broken supply chains and materials worldwide. Technically, though, how much more upside do the two have? This is a pertinent question given that both plunged in Monday's session, even as October had entered its finishing stretch.
All charts courtesy of skcharting.com
On Monday, fell 2.3% to reach a three-week low of $1,963.32. , meanwhile, tumbled its most in a month, falling almost 3% to a near two-week low of $1,025.99.
Just a week ago, platinum was the stronger PGM after palladium was undermined by news that Russia's Norilsk had estimated a 9% hike in its third quarter palladium output from Q2. 
But the most recent positioning report for PGMs had also shown palladium at a near-record speculative and fund net short level that should discourage more aggressive selling.
Thus, the question: Do either of the two become a buy now? Or should investors be neutral to both, pending further price action?
Verdict: Stand Down On Both PGMs Till Month-End
Sunil Kumar Dixit, chief technical strategist at skcharting.com, advocates a stand-down for now in any build-up of PGM positions.
"It's best that we wait for the month to end to figure out where exactly the two will finish," he said. 
"What troubles me is that with just days to go before the end of October, both PGMs could experience sharp drops like these. It tells me that there might be more to shake out and we could see that in the next 72 hours."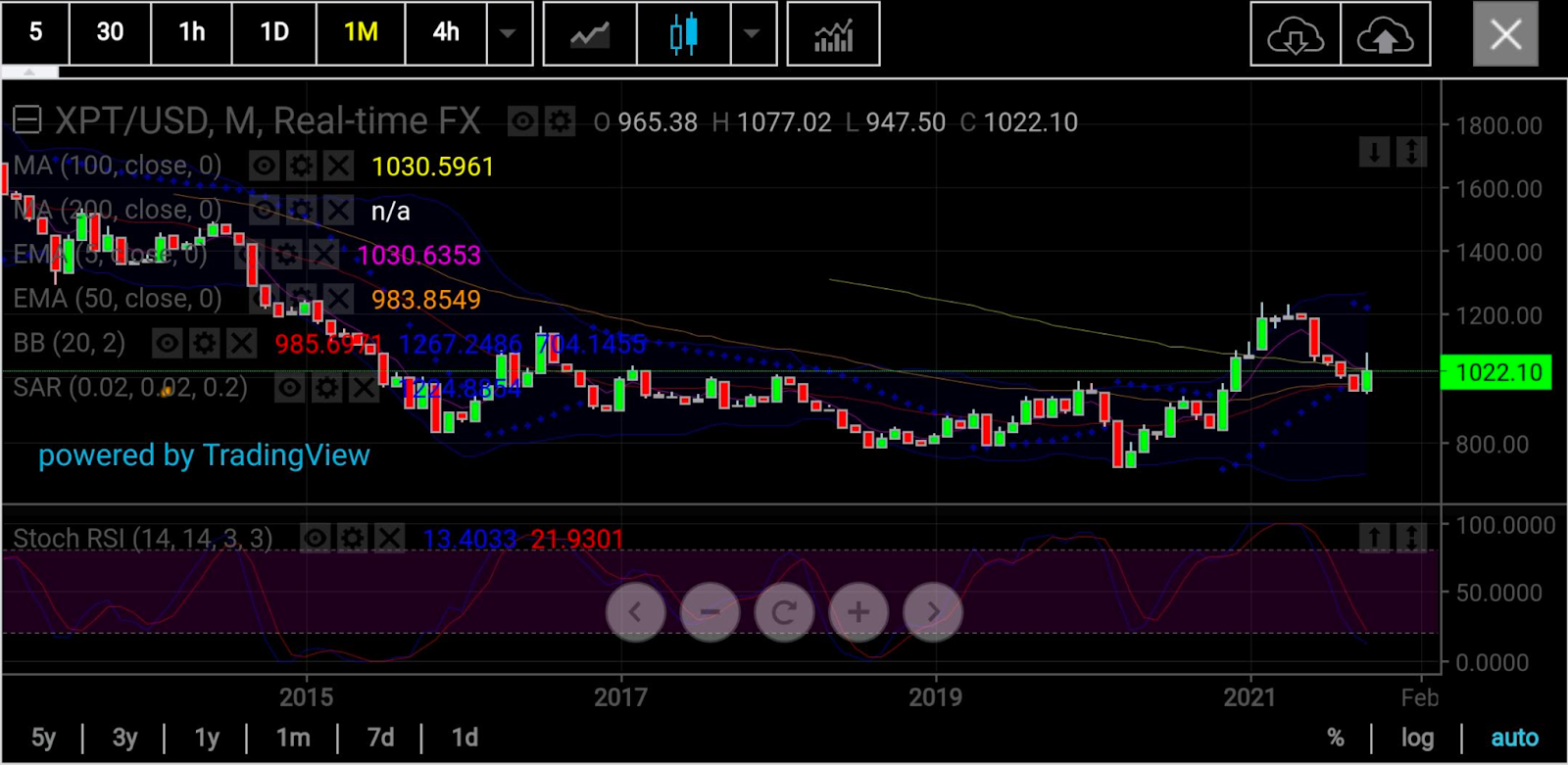 In palladium's case, Dixit said the bearish streak of the past five months has taken support to a 50-month Exponential Moving Average of $1,856 with a low at $1,849.40. "Prices breaking below the 50-month EMA of $1,856 may extend weakness to $1,750 and the static horizontal support areas of $1,555-$1568," he said.
But on the other hand, the oversold stochastic reading of 2.8/13.9 indicated that palladium prices have approached exhaustion, barring a last ditch attack on the $1,555-$1,568 levels, which would act as a "hard floor" to initiate a reversal, with first major target being $2,330. "Critical support in palladium is seen at $2,005 with the top of the range pegged at $2,205," he added. 
In platinum's case, the 50-EMA on the monthly chart was positioned at $983 and the middle Bollinger® Band of $985 has arrested the steep and straight decline, Dixit said. 
"Platinum faces profit booking at $1,077 and is currently facing resistance at the 100-Simple Moving Average of $1,030. The oversold stochastic reading of 13/21 indicates accumulation phase and the likelihood of resuming upward momentum with some sideways action. But prices need to hold above $992 to defend the main bullish track."
Disclaimer: Barani Krishnan uses a range of views outside his own to bring diversity to his analysis of any market. For neutrality, he sometimes presents contrarian views and market variables. He does not hold a position in the commodities and securities he writes about.